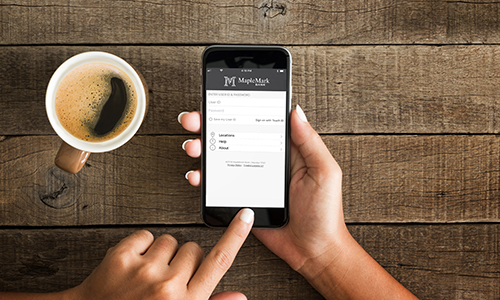 Only the mobile devices that you personally enroll in the service can access your accounts. In addition, no account data is ever stored on your mobile device. In the event that your mobile device is lost or stolen please call us to deactivate your device.  Online Banking users can log in to our website to unenroll their device.
User Name and Password – Online account access is limited to those possessing the user name and password associated with your account(s). Although we don't require you to change your password, we DO encourage you to change it periodically with a strong password.  Learn more about creating strong passwords here.
Out-of-band authentication is required for registering your computer or resetting your password by using a security code sent via a separate communication channel (text, email, or a voice call). This is also known as two-factor authentication.
Device Enrollment – Device enrollment validates your banking relationship by asking you to provide your ID and password from online banking along with answers to security questions which are known only to you based on your personal history. Prior to downloading our mobile banking app and registering your mobile device, you will need to enroll in Online Banking.
Biometrics – For mobile banking, you may activate touch ID or face ID to login into the mobile app (this feature is device dependent).
SSL Encryption – Encryption technology protects data in transit between your computer and our systems. The closed lock icon indicates a communication session is encrypted. As well as, an internet address that begins with https://… indicates that the page you are viewing is encrypted. The "s" stands for "secure".
Timeout – This security feature is intended to prevent another individual from viewing your account information while your computer or mobile device is unattended. If you have timed-out of your online session, you will be prompted to re-enter your User ID and Password.
Security Alerts – You can set up custom alerts to manage and monitor your own account, for example alerting based on if your account balance drops below a certain dollar threshold or when a bill is automatically paid.
Electronic Statements – Paperless E-Statements help you avoid identity theft, since paper statements left in a mailbox or around the house are more susceptible to fraud. To manage the way your documents are delivered simply log into Online Banking, go to the Customer service tab and choose "Change document delivery method". When your statement has been generated, we will send you an email notification that your statement is available online. MapleMark Bank will never email your statement.
Fraud Analytics – At MapleMark Bank we know that you expect protection when it comes to your everyday transactions. Our fraud protection system constantly looks for suspicious activity including changes in usage frequency and unusual spikes in activity. This advantage allows us to react quickly and shut down fraudulent activity right away.
Suspicious Activity – If you are concerned that your account has been compromised, please immediately contact Customer Service at 866-698-5760 (Monday–Friday 9am–5pm CST).
Other Mobile Safeguards – Your passcode and account numbers are not saved to your device. Your device will only display the last 4 digits of your account number(s).