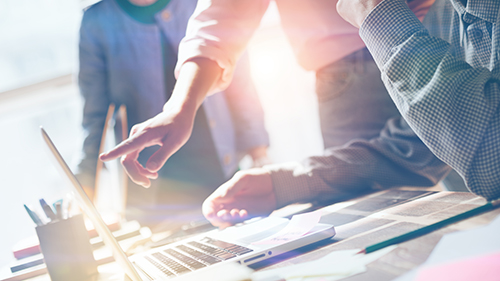 We understand that the protection of your sensitive information does not start and stop with MapleMark Bank. Clients play a critical role in the protection of online accounts – from protecting your passwords to keeping your computers patched and updated. Security, of your accounts and your information, is a partnership. Here are some common fraud schemes you should be aware of:
Phishing – Individuals masquerade as legitimate companies and send what looks to be an official email, instant message, or fax requesting you "update" or "verify" credit card numbers, bank account information, Social Security numbers, passwords, and any other sensitive information. Most recent attempts are targeting account holders. They will try to establish what financial institution you are affiliated with and send an official looking email from your bank to get account information. We will never ask for personal information via email, and when in doubt always call us or login into our online banking web site.
Business Email Compromise – This scam is on the rise and carried out by compromising legitimate business e-mail accounts through social engineering like phishing or other computer intrusion techniques to conduct unauthorized transfers of funds. Increase your awareness and understanding about this scam and learn more about two-factor authentication and other self-protection strategies from the FBI.
Pharming – If an individual wants to obtain information illegally they will set up a fraudulent website that looks like the real web site in almost every aspect. They will then use "phishing" tactics to entice people to the website to divulge personal information such as pin numbers, account numbers, and passwords. Avoid clicking on links in emails that direct you to a financial website including ours. Use your favorites or search for the company's website using a well-known search engine. Also, keep your anti-virus software and browser software up-to-date and do not use public computers to access private information.
Vishing – Vishing is a form of phishing, where instead of people receiving an email trying to lure them into giving personal information, the criminal uses a phone call, either live or automated, to attack the bank or customer and get critical information. Look up email addresses, links, and phone numbers. Do not use those provided over the phone. Learn more from the Federal Trade Commission about limiting unwanted calls and emails.
Smishing – Verify unexpected text messages that contain phone numbers, email addresses, or Internet addresses. Be skeptical of any text messages you receive from unknown senders and assume messages are risky until you are sure that you know the sender or are expecting the message. At any time you may reach us by contacting Customer Service at 866-698-5760.
Ransomware – This term refers to malicious software that holds a computer, smartphone or other device hostage by restricting access until a ransom is paid. The most common way ransomware and other malicious software spreads is when someone clicks on an infected email attachment or a link in an email that leads to a contaminated file or website. Malware also can spread across a network of linked computers or be passed around on a contaminated storage device, such as a thumb drive. Here are some dos and don'ts:
1. Regularly back up your critical files. This is key!
2. Do not pay the ransom. It only encourages and funds these attackers. Even if the ransom is paid, there is no guarantee that you will be able to regain access to your files.
3. Restore any impacted files from a known good backup. Restoration of your files from a backup is the fastest way to regain access to your data.
4. Do not provide personal information when answering an email, unsolicited phone call, text message or instant message.
Malicious Pop-ups – For instance, when visiting a website (not your bank's), you get a pop-up that states that it has found a virus on your computer, and offering to install a free trial of a virus scanner or run an online scan of your computer. While some pop-ups are helpful, this particular one is more than likely a hoax designed to install malicious software. You should never click anywhere in a suspicious pop-up window. Even buttons labeled "Cancel" or "Close" or a red-X button in the upper-right corner are dangerous to click. To safely close a pop-up window, locate the button in your Taskbar that corresponds to the pop-up. Normally, the button and the pop-up will have the same title. Right click on the button and select Close.
Other Safeguarding Tips for Consumers
Sign up for Identity Theft Protection including Credit Report Monitoring
Electronic Statements – E-Statements help you avoid identity theft, since paper statements left in a mailbox or around the house are more susceptible to fraud. To manage the way your documents are delivered simply log into Online Banking, go to the Customer service tab and choose "Change document delivery method".   When your statement has been generated, we will send you an email notification that your statement is available online.  MapleMark Bank will never email your statement.
Document Shredding – Dumpster-diving identity thieves will root through your trash because they know the documents you discard as garbage contain personal identity information. Always shred documents with personally identifiable information (PII).
Safeguarding Tips for Businesses
Institute dual controls for commercial payments.
Turn on transaction and security alerts to notify you of potentially suspicious online activity.
Assign permissions to users to ensure the right access for designated employees.
Regularly monitor user activity.
Regularly educate your employees about cybersecurity awareness.
If you are concerned that your account has been compromised, please contact:
Customer Service at 866-698-5760 (Monday–Friday 9am–5pm CST)